Live 
Harassment 
Prevention 
Training 
Done Right!
Engaging & In-Person
Virtual or On-Site 
Maximize Workplace Compliance
Comprehensive, In-Person and Live Harassment Prevention Training
Our courses are at your location or via remote learning using Zoom, WebEx, etc.
As business and societal standards evolve, so do compliance requirements. To ensure compliance in the workplace, you must offer accredited harassment prevention training.
At The Compliance Pros, we offer California required, sexual harassment training courses designed to help you maintain compliance and a healthy workplace.
Our live courses are:
Instructor-led
At your location or via webinar
Informative and fully compliant
Customizable and memorable
Energetic and engaging!
We tailor the class to meet your needs! We provide in-person, on-site training, as well as trainings via webinar so your team can meet all SB 1343 training requirements remotely. Please contact us for all your options.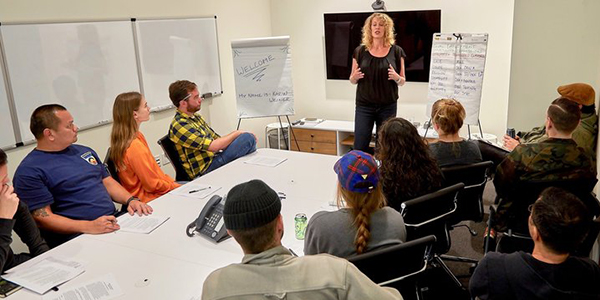 The Compliance Pros offers the full spectrum of California compliant workplace training options, from Live Harassment Prevention Training to Interviewing and Performance Management & Documentation. On-site or virtual learning webinars available! 
It's Time for Your Organization to Hire The Compliance Pros
From Owners, Directors, Heads of HR
"I hit the jackpot with The Compliance Pros.
From the start, Karin made the whole process as easy as possible. She was accommodating and friendly over the phone, and communicated regularly leading up to training. She asked questions to tailor her presentation to the particular areas we wanted to focus upon to ensure that the training fit our company culture.
Karin did a fantastic job holding everyone's attention by making a relaxed and interactive environment that encouraged questions and participation. In fact, days after the training, I had employees coming up to me saying how much they learned and that the training was interesting and fun.
Even after the training, Karin followed up to answer any questions I might have. Overall, Karin made a very daunting task a breeze. I absolutely recommend The Compliance Pros and will be using them for our ongoing needs."
"We asked Karin to conduct anti-harassment trainings for our staff and managers.  Afterward, many of our employees approached us to tell us this was the best anti-harassment training we had ever offered. They found the class both enjoyable and useful.
As a labor/employment attorney myself, the material was specific enough to educate, but also general enough for the managers to digest.  In addition, she teaches several tools to help managers remember how to do the right thing.
Since I know the laws so well, I was prepared to be bored, but Karin's content and engaging presentation style made the time fly by. Karin and the training were fantastic!"
"Harassment Prevention training is extremely important, especially in the state of California.
Having dealt with trainers in the past that were not prepared, who didn't do any research on our Company, or who failed customize the presentation to our culture/policies, I was very cautious about setting up this year's management training.
Karin exceeded my expectations by being thorough on several preliminary calls to ensure we were aligned in messaging and setup for the day-of.
And she was clear and concise during the training so that our managers not only listened but comprehended the training.
I would definitely recommend Karin for your California Manager Harassment Prevention training needs."
READY FOR THE COMPLIANCE PROS TO TRAIN YOUR TEAM?
For more information, our rates, or to book a training, call us at (310) 597-1600 or please click the button below to contact us:
In a previous article, we broke down exactly what was needed to stay compliant with California harassment...
read more